Dear Parents, following requests to repeat our successful and enjoyable Group Family camps
from previous years, we are going to be holding another of these camps at Cranham Scout
Centre in May 2022!
This is for all our sections – Beavers, Cubs and Scouts with their parents and siblings to join
in with all the activities and to camp overnight as a family.
Packed lunches need to be brought for Saturday and the ingredients for breakfast to cook
together on open fires on Sunday morning to finish the event. Food will be provided for your
evening meal on Saturday evening and is included in the cost.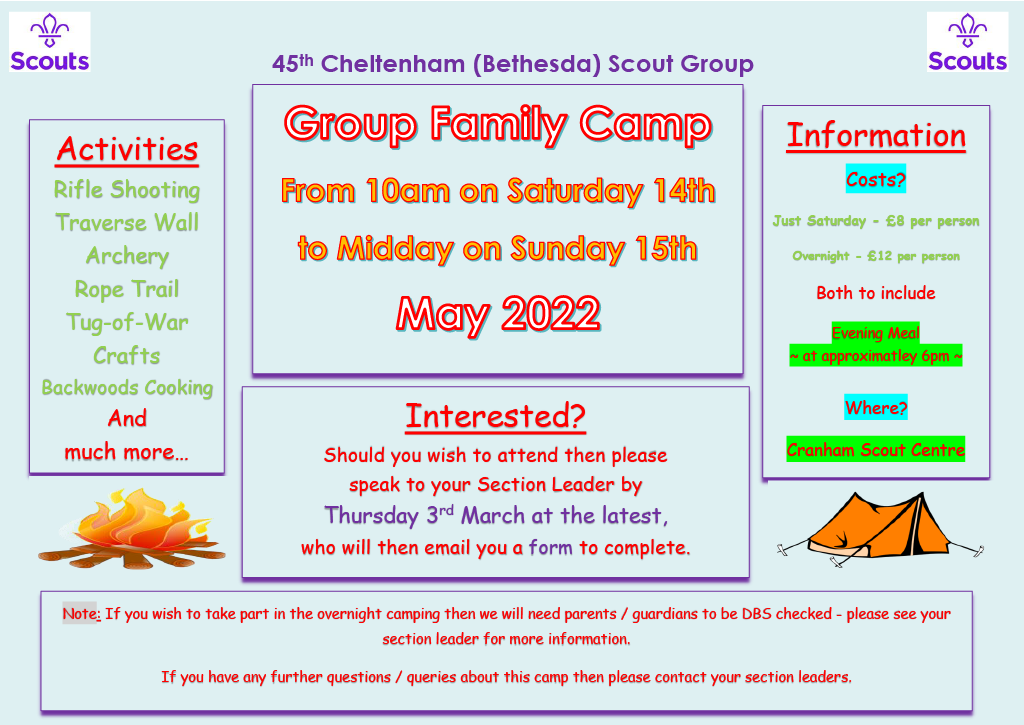 Online Booking
Please select your tickets below and click "Get Tickets". You'll be taken to the Cart to review your selection. Clicking Checkout will take you to a page where we request information about each attendee such as their name – please take care to add the correct information to the right ticket type! The final page will ask for your card details to pay.
If you need to pay by another means such as cash or cheque please get in touch with your section leader who will be able to assist.
Dates and Times
Arrive from 10am Saturday 14th – Midday Sunday 15th May 2022
You can attend just for the day or stay overnight too. Both options include dinner at around 6pm. Day visitors will be asked to leave around 8pm.
Location and Activities
We have most of the main site and the Grove across the road of Cranham Scout Centre booked out for the Family Camp.
Cranham Scout Centre
Cranham
Gloucester
GL4 8HP
Activities include:
Rifle Shooting
Traverse Wall
Archery
Rope Trail
Tug-of-war
Crafts
Backwards Cooking
And much more!
Throughout this event, the leaders and organisers will not be supervising the young people except whilst taking part in specific activities.